GEAR RATIO CLOCK
Stylish F1 Gear Ratio Clock, individually hand crafted. Complete with perspex stand.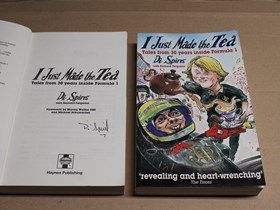 SIGNED BOOK - I JUST MADE THE TEA
"I've just made the Tea" by Di Spires, paperback edition which has been hand signed by the author.
Condition: NEW
This memoir of Di Spires looks at Formula 1 …
JORDAN SIMULATOR
Jordan Simulator, the simulator original came from Bob Salisbury Engineering in Silverstone and was made for the Jordan GP F1 team.
Based on the EJ11 the list …
COLLECTABLES | DISPLAY ITEMS